For some reason, I have this desire to add some trendy, fun pumps and booties to my shoe collection. I blame it on the weather. Since I'm no longer allowed to wear my favorite sandals without my toes falling off, I have got to get the next best thing. I mean, sure I have flats but I don't wear them often since they honestly don't keep my feet much warmer than sandals, and they pinch my wide feet. Plus what looks more streamlined with cute outerwear and blazers then a pair of sleek pumps/booties?

I was looting through Forever 21's merchandise the other afternoon and found some great footwear on their site. And what's even better is that I can try out all these trends for under $35! Let's take a look at some of these goodies, shall we?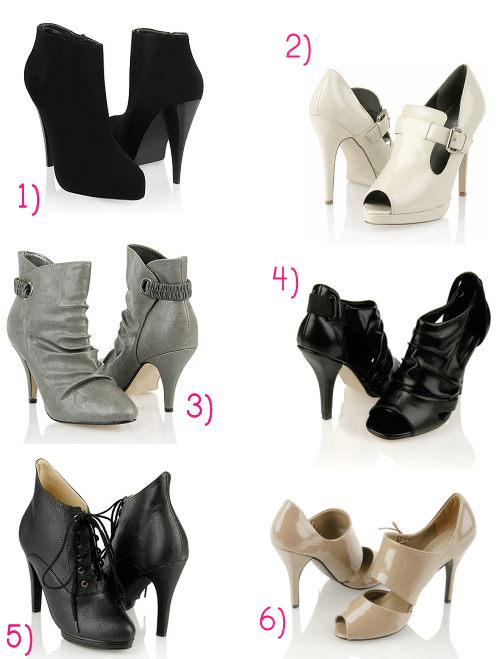 1)
Carson Ankle Boots
, $29.80
2)
Buckled Patent Platform Stiletto
, $32.80
3)
Tulip Faux Leather Ankle Boots
, $26.80
4)
Ellie Elastic Sling Pump,
$24.80
5)
Alicia Ankle Bootie
, $28.80
6)
Morgan Peeptoe Pump
, $22.80
My favorites, that I've added to my wishlist, are #
2
and #
3
. The heels aren't extremely high, they have pretty details, and can pretty much go with everything in my wardrobe. But I am definitely checking these all out when I get to go home for Thanksgiving. Some home-cooked food and then some shopping -- what can be better than that?