I'm sure many of you watch Gossip Girl religiously. I love the plots and characters, but I also love the fashion. So if you have been keeping up with all the new episodes you know that "Little J" is growing up. And fast. Ever since she started home-schooling to work on becoming a designer, her style has changed drastically. She's wearing super dark eyeliner and has got this grunge thing going on. I don't know about you, but I honestly liked her style better when she was still attending her preppy, private school. I still like Blair and Serena's outfits the best, but Jenny's weren't half bad.

I also think that her past outfits suit this sort of weather perfectly. She always wore bright colors (which I love doing during winter) and even though she doesn't dress like that anymore, we can always take a couple ideas from her past style. So let's take a walk down memory lane, and see some of my favorite outfits of hers!


Wow, anyone remember this? Yes, this was from Season 1 when Little Jenny was desperately trying to fit in. (Doesn't this make you want to re-watch the whole thing?)
Sure she's wearing her school uniform, but overall it's an easy outfit you can transform to wear to class or out for lunch in the cold. Switch her plaid skirt and white shirt for a sweater dress. And just like Jenny does, pair it with some color tights. This changes her whole look from oh-that's-cute to hey-look-at-her-outfit!. If you're more adventurous you can try a brighter color (a red or blue), but I love the purple since it's more subdued.
What's she wearing?
A
Lauren Moffatt
Hooded Toggle Jacket from
Shopbop
(which is out of stock). And a Marc Jacob's bag.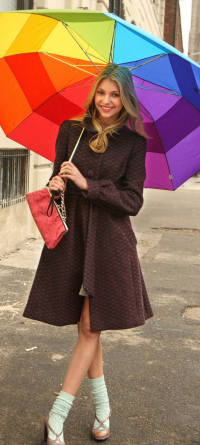 Another goodie from Season 1. Isn't her umbrella fabulous?
Your accessories don't have to be limited to something you wear! Jenny keeps her clothing basic and in all neutral tones. Then her umbrella doesn't compete with anything she's wearing! You might be needing to carry one of these around soon(if you aren't already). Get one in a bright color or pattern to stand out from all the regular black umbrellas.
What's she wearing?

A
Tocca
Amelinda Plum Wool Puff Sleeve Coat from
Bluefly
($435.00).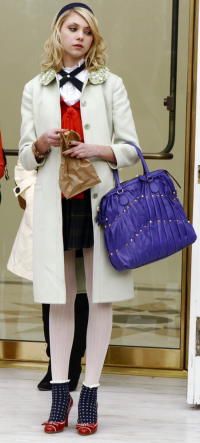 Now I'm pretty sure this was from the famous yogurt-throwing-on-Blair's-perfect-hair episode. Am I wrong? Sigh, the good old days.
I loved this period in Jenny's style history the most. She's still got that preppy thing going on, but it's more grown up than before (compare to the last two outfits I posted). And I loved her short-do on her. Very chic. But she still stays true to her own style by always having that one touch of eye-catching color. I love how her big, blue bag (like my alliteration?) stands out against her pale yellow coat. And her red shoes don't compete with it either.
What's she wearing?
A Valentino Maison Studded Baullato bag from
Neiman Marcus
($1,248.00). And a Valentino Red Woven Bamboo Coat.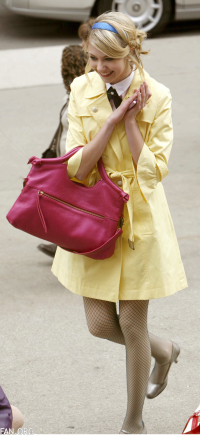 Oh yes, Jenny at her peak of fame. Remember her and her new rich boyfriend who happened to be dating Serena's little brother? Yes, I do too.
This time Jenny lets three colors, which you would think would compete with each other,
complement
in the most unexpected way. Although her coat itself would have been enough, she decides to add a dark, practically hot pink bag
and
a light, but bright, blue headband. Because almost every inch of her is covered in attention-grabbing colors, she keeps her tights and shoes super neutral. Don't be afraid of putting on more than one bold color in your outfit. Just make sure the biggest dose is a light shade (like the yellow) while the smaller parts (the accessories) can be as striking as you want.
What's she wearing?
A
Foley + Corinna
Mid City Tote from
Luna Boston
($385.00). Plus a Michael Kors trench and a
Stacey Lapidus
Glitter Headband.
Do you like Jenny's new style better or do you agree with me?