I love finding new stores to check out. I recently "bumped" into
Tobi
, which sells popular and some upcoming designer goodies. Of course this means that I can't afford more than half of what's on this site, but that doesn't mean I can't do a bit of "window" shopping. (You can indeed find things for a steal, such as sunglasses for as little as $35, but you've gotta browse).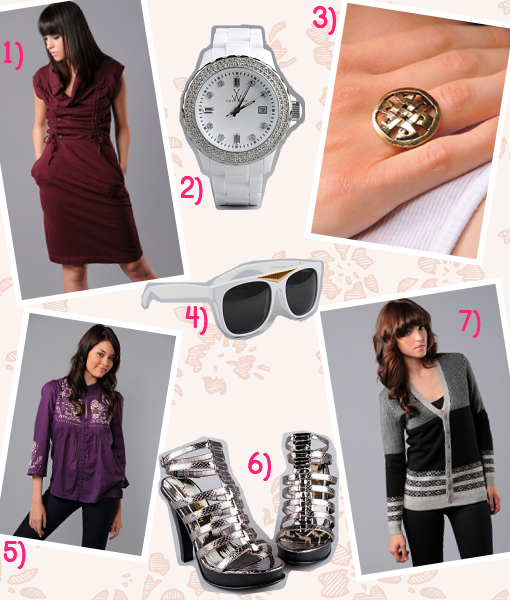 1)
Prairie Underground Mothette Dress
, $253
I'm always on the look-out for unique pieces, and this dress is definitely one. The detail and nipping make the dress ultra-feminine, but in no way would you be uncomfortable in this cotton, jersey material.
2)
Toywatch Plasteramic Watch with Crystals
, $295
I'm not a big watch fan, but this is so clean and simple, I'm in love!
3)
Allison Daniel Chinese Knot Ring
, $28
I have an addiction to gold rings, and this one even comes with an adjustable band. It would be a perfect addition to spice up my cocktail ring collection.
4)
Super Shield Sunglasses
, $178
These glasses give you the perfect vintage feel, but keeps modern with some gold detailing. It would be amazing to have these on hand when the weather here gets confused and acts like it's spring already.
5)
Joie Abby Tunic Top
, $104
Embroidered tunics are perfect to slip on when you're feeling a bit lazy. They practically accessorize your outfit for you!
6)
Sam Edelman Mariella Heels
, $129
I adore Sam Edelman's designs, and this is no exception. Especially with it's subtle, but glamorous faux snakeskin straps.
7)
Grey Ant Cardigan Sweater
, $319
Although this is way too pricey to add to my cardigan collection (only nine so far), it's still worth a look with its decorative prints and stripes.