This is part 1 on the set of posts I am going to do on Lauren Conrad's style. This post will focus on her dressy outfits, while the next one will focus on her casual ones.


The "Dress Like..." posts are a series I'm going to do featuring a certain celebrity that is known for her fashion choices. It won't be on specific outfits, but more on how their overall style is like, and how you can incorporate that into your wardrobe. I know most of you usually have one celebrity/model or even a girl you saw on Myspace as your fashion muse. But some of you, like me, may have a main one yet also others on the side. And Lauren is one of them for me. I connect with her style because I'm a student and I can see myself wearing many of the outfits she chooses when she's at events or just going out for lunch. She does this effortlessly chic style very well. Her style is usually very basic, trendy and comfortable. That's what I want to go for when I'm just going off to my classes or getting spruced up for special occasions.

Her dressy outfits give off that same vibe. She stays with very classic cut dresses, but always has some kind of special detail that gives her look something different. It can be something subtle like the hem on her dress or something more eye-catching like bright patterns.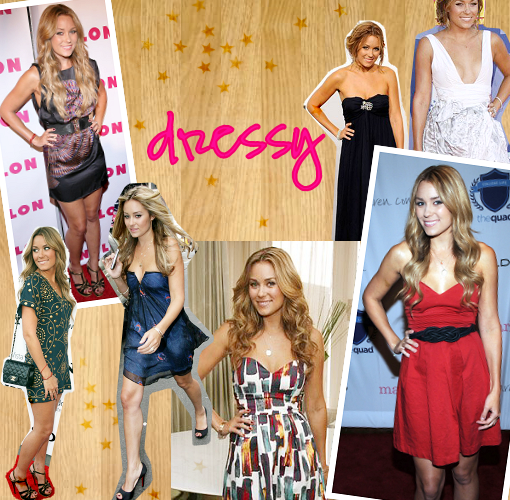 The Dress
Lauren opts for sweetheart cuts for her dressier days. They look great on practically every body type and they come in a variety of styles and prints. She switches up their look though by always finding a unique piece. If it's a solid color she adds a fun belt, goes for crazy and colorful prints, or chooses an elegant fabric.
But that doesn't mean she doesn't try out other dress styles. She goes for t-shirt dresses with amazing beaded details and mini dresses in classic colors.
(On the left):
Flower Embroidered Satin Dress
$27.80
(On the right):
Extend Pleat
Dress
$24.80
.
(On the left):
Sequin Strippe
d Shift
$68.99
(On the left):
Floral Sequin Chiffon Dress
$36.99
.
(On the left):
AB Studio Jeweled Sheath Dress
$69.00
(On the right):
Fold Down Neck Puffball Dress
$57.00
.
The Shoes

Lauren wears shoes that don't compete with the rest of her outfit. They are usually black peep toes or, her current favorite, YSL T-straps. It isn't hard to find a similar pair since Lauren's picks are timeless. Plus this is the perfect chance to add some classic heels to your wardrobe if you don't have them already. They'll never go out of style.
(On the left):
Skinny Heel Patent Platforms
$37.50
(On the right):
Kurt Geiger Glitter Heels
$150.00
.
(On the left):
Charles David Minis Sandals
$124.95
(On the right):
Linea Paolo Branson Pumps
$69.90
.
Accessories

Lauren keeps her accessories to a bare minimum. If she's wearing a strapless dress she will sometimes stick to a barely-there, thin necklace, but most of the time she keeps everything clean by having no accessories at all. Her hair is usually curled and kept down so accessories would just make her outfit more cluttered. She does love her bracelets though. Lauren wears gold or silver thin bangles to add some sophistication.
Remember
, having a style muse is great for creating new looks, but don't ever copy someone else's style from head to toe. That isn't being creative; you've got to make the look
your
own
. That's why the items I picked are never exactly like the pieces that Lauren is wearing in any of her pictures. But, they are all something you can imagine her in since it's very
her.
You always want to put your own touch into your outfits too!
I hope you enjoyed this new and different post! Give me your thoughts and look out for part two!