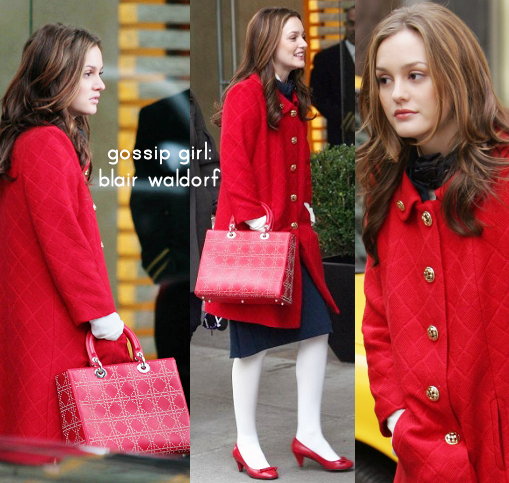 I know many of you love and envy Blair Waldorf's wardrobe on the hit tv show Gossip Girl. (If only I could afford that Dior handbag of hers...). This is a sneak peek of one of Blair's fabulous outfit from an unaired episode.
I really love that coat of hers. Of course Blair would wear it in her signature color -- red. And she makes sure it's known by wearing red shoes and carrying a red purse.
If you can afford this
Milly Diamond Wool/Rayon Viscose Coat
, then feel free to splurge since I will leave you with the link. I will also be extremely jealous if you can afford the $684.00 price tag.
Her Dior Large Quilted Patent Lady Bag is probably a lot more expensive than that. Unfortunately I couldn't find it available in any stores. I'm sure if you look hard enough though you can find some great knock-offs.
PS, I hope everyone's Monday is going well. I just came back from taking a crazy hard midterm and can't wait to go home for Thanksgiving.