I'm in need of a new handbag. As much as I love the one I'm using (a cream tote that I got for such a deal), I want something new! Not just because my old one is getting a little ragged on the bottom, but also because I want to try out one of the new handbag trends. Sure, totes will always safe, but you're only young once right?

My three favorite trends right now are the slouchy, framed, and messenger bags. To go with the number theme, I picked three for each category priced from steal-worthy to splurge-worthy. Even if they're just "trends" and might not last long, splurge if you know you'll love it and if you're getting it in a classic color.


Slouchy
I've had my eye on a slouchy bag for
my
next "it" bag, but there's honestly so many to choose from. If you told me to choose just one from the above, I probably couldn't do it! C'mon, how girly is that bow detailed hobo bag? It's like mixing bohemian with Victorian. And the second bag comes in such an amazing color; it would stand out perfectly against my dark clothes. Plus the Beckon bag comes in patent! I'll love anything that comes in patent.
Framed bags are great if you need something more structured, especially for carrying around notebooks or folders. This definitely scores points for when you need to set it down on the floor and instead of crumbling up like most bags do, this will just stand up all by itself.
Messenger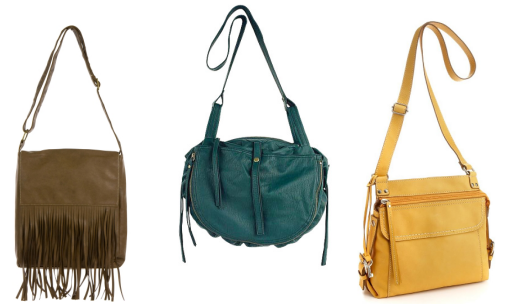 I would have never considered a messenger bag
ever
, but after seeing them on certain people I've come to like them quite a lot. I always thought of messenger bags as being those boring, practically-laptop-case-looking things, but I was very wrong. I would never do fringe boots, but the fringe messenger bag is a different story. It's just a small touch of it that makes it just right. And the other two come in such great colors, and don't come in those boxy shapes I always imagined.
I'll probably go bag shopping over for Black Friday! What fashionista doesn't love great sales?