Here are the next set of outfits I promised
from my last pos
t
. This set are a couple I picked out from just browsing through the Forever 21 website. All three of these are great winter outfits that I can see myself in. The great thing is that they encompass some recent trends and blend them into the outfit so it's easy for us normal people to wear.
Look 1
These two outfits are actually the same, but I wanted to show you the different aspects of it. Here I wanted to showcase the fun, plaid scarf that updates the top part of the outfit. Sure the tights give it something extra, but the scarf gives it that finishing touch that brings everything together. I can't say this enough: stock up on scarfs this winter!
Scarf
:
Rainbow Houndstooth Scarf
, $7.80
Look 2
This shows us a way to wear the very "in" outerwear -- the blazer. To keep it looking too stuffy, pair it with mustard colored tights and black booties.
Blazer
:
Katri Blazer,
$29.80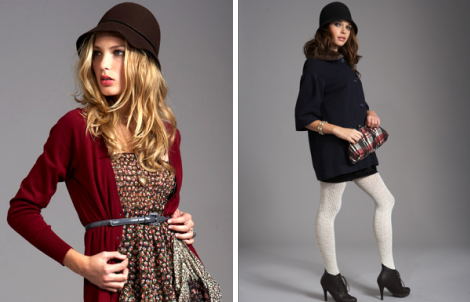 Look 3
Cardigans are a favorite of mine. I literally want them in every color and design possible. Get a vintage look by wearing a printed tunic. To create a nice, hourglass shape, add a skinny belt in a different color.
Belt
:
Patent Skinny Belt
, $5.80
Look 4
Doesn't this just make you want to go out and buy some white tights à la Blair Waldorf? I wouldn't have thought to consider white tights at all, but this makes me think twice! Paired with a navy peacoat, it looks so put together. Don't worry, you too can get the same look for super cheap!
Tights
:
Chancey Pointelle Tights
, $6.80
Is it horrible I'm already anticipating Christmas? How can you not when stores are bringing out singing Santa Clauses and cafes are suddenly selling holiday drinks? And for most of you, Tuesday means a day off thanks to Veteran's Day. Any plans? :)