I hope everyone had an amazing Thanksgiving! I had a great Thanksgiving and birthday. I definitely got the cake I'd been craving all month long. My Black Friday shopping was a bit disappointing though! I didn't get many items on my "list", but I did manage to snag a plaid jacket I'd been lusting for plus a bundle of accessories. There's still the Holiday sales though right?

Anyways, I'm in desperate need of a pair of fashionable rainboots after dreading the puddles and mud last week. (Although of course it's bright and sunny now). The weather here is so unpredictable that I'm sure I can't rely on the skies being clear for long. So I thought I'd share some of my rainboot finds!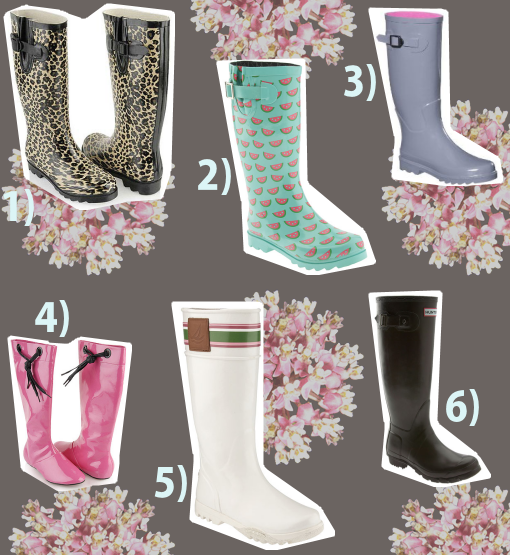 1)
Leopard
Rain Boots,
$24.80
2)
Chooka Signature Printed
Rain Boots,
$59.95
3)
Zetta Tall
Rain Boots,
$24.99
4)
Puddle
Rain Boots,
$24.80
5)
Sperry Top-Sider
Pelican Rain Boots,
$59.95
6)
Hunter
Original Rain Boots,
$115.00


I especially like the Sperry Top-Sider ones. The color is so clean and simple, and so is the design. Although I'm not sure how practical white rainboots would be. They're fabulous nonetheless!