I want to share a shoe purchase I made recently. It was a total impulse buy, which I normally don't do with things such as shoes. I was actually shopping around for some rainboots, but ended up with these seude, gray booties.

I stumbled upon them at Payless and I loved them! First off, I've been wanting a pair of boots in grey and the suede makes it easy to dress it up or down. And second they were surprisingly comfortable! I'm not a huge fan of heels since I'm terrible at walking in them, but these were a piece of a cake. But the best part about them was the price. They were only $19.99! (Though on their website they're knocked down even more to $17.99; the original cost is at $42.00).

Here's how they look like on the website. Cute no?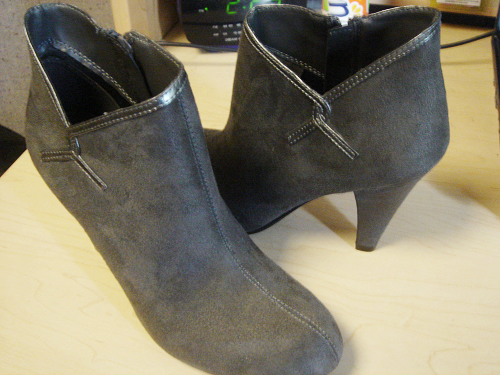 And here they are sitting on my desk. You can see they're a bit darker than what's portrayed on the website.

I'm wearing them in this one. I'm pairing it with dark, grey tights and black, knee-high socks I scrunched down. (Sorry about the picture quality. I had to brighten it up a thousand times on my computer).
They have these in black too. If you'd like to snag up a pair you'd better hurry! The stores had limited sizes, but
they're available online
.