I managed to catch the 2009 Oscars this year, and of course found myself anticipating all the amazing fashion. There were so many stunning dresses, shoes, and accessories. And so, I thought I would share my personal favorites of the red carpet.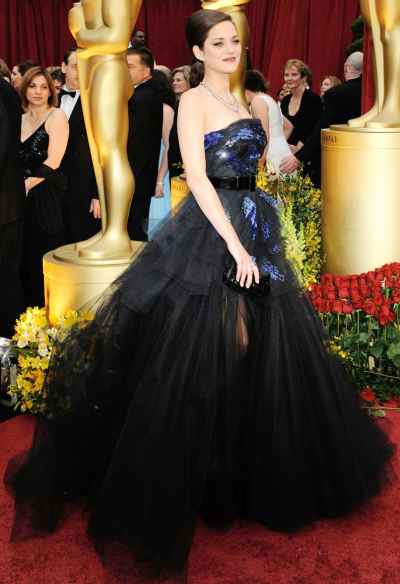 Who & What:
Marion Cotillard wearing a Haute Couture Dior dress and shoes, and Chopard jewels.
Comments
: I'm a sucker for dark, princess-y gowns. I think they're such a refreshingly different take on poufy, full-length dresses. The bright blue accents on top are sublte, yet keep the dress from fading into the background. And who doesn't love Dior?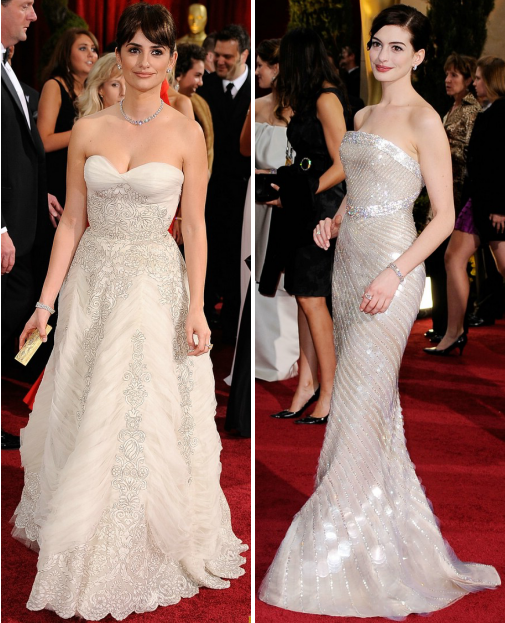 Who & What
: Penelope Cruz wearing a vintage Pierre Balmain Haute Couture gown.
Comments
: Overall pretty simple, but the lace detailing takes it to a whole other level. It goes so well with her, and I can't get over the exquisite stitching on the dress!
Who & What
: Anne Hathaway wearing an Armani Prive gown.
Comments
: Another vision in white, Anne manages to look sleek and sophisticated in this strapless number. I love how the sequins start out small, and gradually increase in size as they reach the bottom of the dress. It's almost "fish-scale" like which normally wouldn't be appealing, but it works on her.
Who & What
: Marisa Tomei wearing a Versace gown and Van Cleef and Arpels jewels.
Comments
: Another extravagant dress that is toned down by it's amazingly simple color. The geometric shaping from the waist down give it some great visual interest to an otherwise subtle color tone. And she pulls the gown off so well.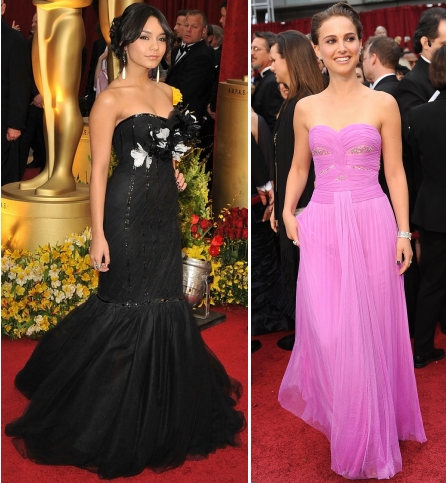 Who & What
: Vanessa Hudgens wearing a Marchesa gown.
Comments
: I'm usually against mermaid style dresses, but the fact that its black doesn't make me think too badly of this design. The length is very appropriate for the Oscars, and black and white is always a classy combination.
Who & What
: Natalie Portman in a Rodarte dress.
Comments
: I love that she went for a gown in a eye-popping color. She manages to stand out from the rest of the red carpet fashionistas in a flattering strapless chiffon dress. It doesn't hurt that she look so amazingly gorgeous.
What were some of your favorites?